| | | | | |
| --- | --- | --- | --- | --- |
| XLVI | | 46 | | SALONA |
The SALONA 46, fast, comfortable and luxurious, unique electric yacht in the World equipped with a distinctive electric propulsion system.
The Salona 46 combines the best technology, design, quality, and comfort elements with absolutely stunning outdoor. It is built to be solid but lightweight due to advanced construction techniques. Hull and deck are produced in vacuum infusion in vinyl ester resin which results beyond the expected sailing performance. Besides, the Salona 46, like all previous boat models, is reinforced with a steel internal frame construction that supports the keel, mast and gives the yacht an extremely strong and reliable construction.
At the same time, it's smooth and easy to sail. Take your hand off the steering wheel, and the balanced rudder helps it stay on course for a few seconds as if it knew what it was supposed to be doing all along. The fractional rig and the oversized winches mean trimming the jib is relatively easy. The main is easy to hoist with an electric winch and drops neatly into the stack pack when you're done sailing for the day.
The clean and modern design of Salona 46, performed by J&J design team in collaboration with Salona, set the new standards of luxury yacht design. Both three and four-cabin versions are available with king-size beds and full standing height, not forgetting good size wardrobes and storage facilities suitable for a memorable and comfortable sailing journey with family or friends. It also features two comfortable bathrooms, with two showers offered as standard, for the superb convenience. Salona semi-custom yachts allow each customer to implement his ideas and wishes in creating a dream Salona yacht.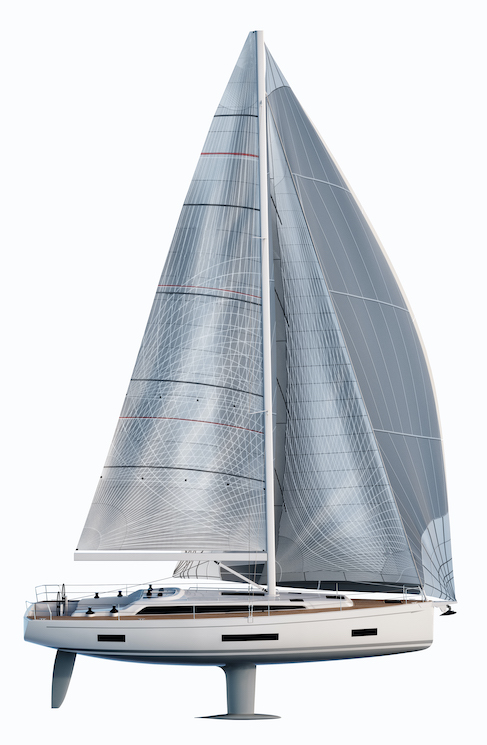 LOA (including bowsprit): 14,14 m
Hull length: 13,50 m
Length at waterline: 12,23 m
Beam: 4,20 m
Draft: 2,44 m
Displacement empty: 9.800 kg
Mainsail full batten: 63,9 m2
Genoa furling: 45,1 m2
CE Certification: DNV – GL
Design Category: A - Ocean
Design: J&J / Salona design